1
« on: August 08, 2020, 10:47:11 am »
Hello, I'm using SMF Gallery Pro 9.0beta1 on SMF 2.1 RC2+ forum (build 06.05.2020).
When I edit some picture and try to move it to another user personal gallery, I see only 7 galleries in drop-down menu:
Click =>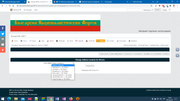 But my forum has 93 members, and the galleries of the rest 86 members are not accessible in that drop-down menu.
I didn't find an option in SMF Gallery settings to resolve this problem.
Do I need to change the picture's owner before moving picture to the user personal gallery?